Dr. Michael Newton ~ 1931-2016
"Dr. Michael Newton was a highly acclaimed international spiritual regressionist, who discovered how to enable people to access the wisdom of the spirit world and their higher guidance whilst living their lives."
"Known as a pioneer of afterlife exploration, his dedicated research over 30 years mapped for us all insight into our Life Between Lives® (LBL) as presented in his books Journey of Souls and Destiny of Souls."
"This knowledge has bought healing and renewed life purpose to over a million people from all walks of life. His work continues to touch the lives of individuals and communities all around the world, through the sharing of the spiritually transformative experiences of LBL wisdom, LBL Training by the Michael Newton Institute® – and the worldwide network of LBL Facilitators."
THE STORY OF DR. MICHAEL NEWTON AND LIFE BETWEEN LIVES
"Dr. Michael Newton held a doctorate in Counselling Psychology, was a certified Master Hypnotherapist, and a member of the American Counselling Association. He was also a practicing Psychologist who held positions in the faculty of higher educational institutions as a teacher in Los Angeles."
"Dr. Newton had been skeptical about exploring the metaphysical, in fact, he originally refused repeatedly to undertake past life regression sessions which had become popular in the 50's and 60's, since Morey Berstein's classic "The Search for Bridey Murphy" was published in 1956. Little did he know at that time what life held for him…"
"Even with his original skeptical nature towards past lives and a personal atheist belief structure, his developing deep trance work with clients in his mid adulthood lead him down a path of the accidental discovery of Life Between Lives (LBL) which was truly ground-breaking."
"In the late 1960s, Michael treated a client for psychosomatic pain of the shoulder with traditional hypnotherapy. This man had sought hypnotherapy, having exhausted the medical model where they could find nothing wrong with him. In a deep trance state, Michael asked him to go to the source of his pain, assuming some form of unconsciousness trauma lay beneath the condition. The client landed in a scene from WW1 where he was being bayoneted in a trench during the Battle of the Somme. Michael asked all manner of questions about his unit, commanding officer and even the badges on his uniform, before desensitizing the pain and resolving the issue. The client went away bewildered, though healed. Michael, ever the researcher, wrote to the keepers of the War Records in London and confirmed the client's story. It was a moment of deep significance and set him on the path."
"In 1968, Michael had his first taste of the expanded LBL state, when he treated a woman with depression. Again taking her to the source of her pain, she naturally flipped into the afterlife, a period in between her past lives and met her soul group there. Her profound experience of loneliness that had catalyzed as her depression, was resolved after this reunion. She remembered in her LBL leaving her soul friends behind to learn independence."
"The gate to the spiritual realm had opened…"
"From his discovery of the healing that could be facilitated through deep spiritual regression, he developed over many years his own intensive age regression technique to effectively take hypnosis subjects beyond their past life memories, to a more expanded and meaningful soul experience between lives."
"Michael began to explore (using meticulous research), the afterlife through the eyes of his clients. It was to be over 25 years before Michael first shared his work with the world, having researched and assembled a model of the spiritual realm with 7000 clients, spanning over 35 years. His journey towards these discoveries is further outlined in his best-selling books Journey of Souls and Destiny of Souls."
In an address to the members of the Institute, Michael summarized his life's work as follows:
"We want to bring a new form of personal spiritual awakening to an ever expanding range of people around the globe. I see our mission as twofold. First, through training and supporting our practitioners and secondly, to foster public awareness of the benefits we are able to offer people seeking to uncover spiritual knowledge within their own minds. Our movement is designed to help human beings mentally become whole by connecting with the essence of Oneness in the life between lives and while in this life experiencing a transformational discovery of the true nature of their eternal soul within the matrix of a physical brain."
– Dr. Michael Newton (PhD)
THE MICHAEL NEWTON INSTITUTE
The Michael Newton Institute is a not-for-profit organisation, founded by Dr. Michael Newton, bringing together a global network of over 200 Life Between Lives (LBL) Facilitators to offer Life Between Lives hypnotherapy, as pioneered by Dr. Michael Newton. They "hold his vision for humanity and carry on his passion for researching the Afterlife and bringing the evolving modality of LBL hypnotherapy to humanity".
The Michael Newton Institute is "committed to providing opportunities globally for people to experience their soul state and a reconnection to the wisdom of the After-life/Inter-life". They consider their mission to be: "to raise personal and collective consciousness, by bringing the healing and wisdom of Life Between Lives to individuals around the globe, reawakening their immortal identity and integrating Spiritual Consciousness."
BOOKS BY DR. MICHAEL NEWTON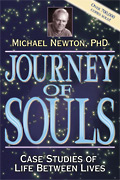 JOURNEY OF SOULS – Case Studies of Life Between Lives
by DR. MICHAEL NEWTON
"Dr. Michael Newton's groundbreaking first book on the Afterlife is one of the great spiritual books of our time. Decades of detailed research made this book possible and it finally emerged when it was most needed, as humanity was starting to open more to the metaphysical roots of our existence. What makes it even more special is that Dr. Newton didn't believe what he was finding at first, though through the eyes of thousands of client cases he was able to build a working model of the afterlife, an understanding of our connection to it and the possibilities of having the wisdom it offers within a life rather than wait for the end of it."
- Why are you here on Earth?
- Where will you go after death?
- What will happen to you when you get there?
"When Dr. Michael Newton, a certified Master Hypnotherapist, began regressing his clients back in time to access their memories of former lives he stumbled onto a discovery of enormous proportions: that it is possible to 'see' into the spirit world through the mind's eye of subjects who are in a hypnotized or superconscious state. Moreover, clients in this altered state are able to describe what their soul was doing between lives on Earth."
"In Journey of Souls, Dr. Newton narrates and comments upon the progressive 'travel log' of 29 of his clients who movingly described what happened to them between their former reincarnations on earth. They revealed graphic details about how it feels to die, who meets us right after death, what the spirit world is really like, where we go and what we do as souls, and why we choose to come back in certain bodies."
"Finding one's place in the spirit world initiates a deep process of healing for it provides understanding of the purpose behind significant life choices, and how and why your soul – and the souls of those you love – lives eternally. After reading Journey of Souls, you may gain a better understanding of the immortality of the human soul… and be able to meet day-to-day personal challenges with a greater sense of purpose as you begin to understand the reasons behind events in your own life."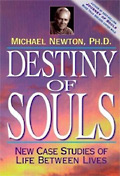 DESTINY OF SOULS – New Case Studies of Life Between Lives
by DR. MICHAEL NEWTON
"Journey of Souls broke new ground, Destiny of Souls consolidated this emerging modality into something truly noteworthy in Afterlife exploration. This book goes deeper into some of the core philosophies and is significantly indexed to bring context and perspective to the themes Michael drew together."
"With 70 case histories of real people who were regressed into their lives between lives, Dr. Newton answers the requests of the thousands of readers of the first book who wanted more details about various aspects of life on the other side."
"Destiny of Souls is also designed for the enjoyment of first-time readers who haven't read Journey of Souls. Explore the meaning behind your own spiritual memories as you read the stories of people in deep hypnosis, and learn fascinating details about: – Our purpose on Earth, – Soul mates and spirit guides, – Spiritual settings and where souls go after death, – Soul travel between lives, – Ways spirits connect with and comfort the living, – The soul-brain connection, – Why we choose certain bodies."
"In 2001 Destiny of Souls was awarded the 'Most outstanding metaphysical book of the year' at the Book Exposition of America and many of the publishers, book wholesalers and literary associations who voted, also named it 'The Millennium Book'."
"A must read for those seeking to understand their lives in the context of a higher soul plan."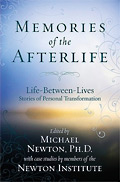 MEMORIES OF THE AFTERLIFE – Life-Between-Lives – Stories of Personal Transformation
by DR. MICHAEL NEWTON, MICHAEL NEWTON INSTITUTE

"Dr. Michael Newton, best-selling author, returns as the editor and analyst of a series of amazing case studies that highlight the profound impact of spiritual regression on people's everyday lives."
"These fascinating true accounts are handpicked and presented by Life Between Lives hypnotherapists certified by the Michael Newton Institute. They feature case studies of real people embarking on life-changing spiritual journeys after recalling their memories of the afterlife: reuniting with soul mates and personal spirit guides, and discovering the ramifications of life and body choices, love relationships, and dreams by communing with their immortal souls. As gems of self-knowledge are revealed, dramatic epiphanies result, enabling these ordinary people to understand adversity in their lives, find emotional healing, realize their true purpose, and forever enrich their lives with new meaning."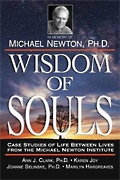 WISDOM OF SOULS – Case Studies of Life Between Lives from the Michael Newton Institute
by Dr. Ann J Clark, Karen Joy, Dr. Joanne Selinske and Marilyn Hargreaves on behalf of the MICHAEL NEWTON INSTITUTE
"Discover new case studies of transcendent experiences with spirit guides, departed loved ones, elders, and the higher self. Wisdom of Souls is filled with awe-inspiring stories of healing and wisdom experienced by people from all walks of life. Learn what it's like to take an astral journey to the realm of spirit, where loving guides and higher beings of light provide instruction and warm encouragement."
"Following in the footsteps of Dr. Michael Newton's bestselling books Journey of Souls and Destiny of Souls, this book provides profound spiritual insights and lessons that will help you connect to your own inner wisdom and gain a new perspective on your life challenges."
"Within the pages, you will read amazing stories of people whose Life Between Lives experiences helped them. Learn for yourself how the soul sees the common life problems we all face, what lessons they may represent, and how we can address them in a manner that enhances our spiritual growth and well-being."