+ Near Death Experience (NDE)     + Empaths     + Spiritual Teacher + Author
Anita Moorjani, an international speaker and the author of New York Times best seller Dying to Be Me and her latest book, What If This is Heaven?, is a woman with a remarkable story.
"In 2006, I fell into a coma as my 4-year struggle with cancer was coming to an end. While doctors rushed to attend to my frail body, I entered into a near-death experience (NDE) where I discovered one of life's greatest truths: HEAVEN IS NOT A DESTINATION; IT'S A STATE OF BEING. When I regained consciousness, my cancer miraculously healed and I was free of disease within weeks! Since then, I've heeded the call to share this powerful story—and divine lesson—with the world."
Anita Moorjani
Anita's NDE has captured the hearts and attention of millions across the globe. She has been a featured guest on The Dr. Oz Show, Fox News, The Today Show, CNN's Anderson Cooper 360, the National Geographic Channel and many others. Anita shares her powerful story and divine lessons worldwide through her HayHouse Radio show, weekly email newsletter & videos, workshops & speaking engagements and via Facebook Live.
Today, Anita lives in the United States with her husband Danny and continues to share her incredible story and lessons internationally.
Read about Anita's near death experience.
BOOKS BY ANITA MOORJANI
DYING TO BE ME
by ANITA MOORJANI
"In this truly inspirational memoir, Anita Moorjani relates how, after fighting cancer for almost four years, her body - overwhelmed by the malignant cells spreading throughout her system - began shutting down. As her organs failed, she entered into an extraordinary near-death experience where she realised her inherent worth . . . and the actual cause of her disease. Upon regaining consciousness, Anita found that her condition had improved so rapidly that she was able to be released from the hospital within weeks . . . without a trace of cancer in her body!"
"This is a book that definitely makes the case that we are spiritual beings having a human experience . . . and that we are all One!"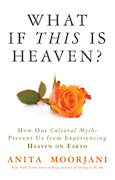 WHAT IF THIS IS HEAVEN?
by ANITA MOORJANI
"Following her near-death experience as shared in the New York Times bestseller Dying to Be Me, Anita Moorjani knows well the truths that exist beyond common knowledge and acceptance. The clarity she has gained has led her to further understand who she was born to be. Part of that truth has involved contemplating the cultural myths infused into our everyday lives. Passed down from generation to generation, these myths are pervasive and influential."
"Anita Moorjani asserts it is now time for questioning in order to help us reach our fully informed, authentic selves. Anita explores these common myths in their real-world existence while presenting examples from her own life. By freeing ourselves from these ubiquitous expectations, we can break open an honest pathway to life as it was meant to be lived."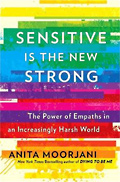 SENSITIVE IS THE NEW STRONG: The Power of Empaths in an Increasingly Harsh World
by ANITA MOORJANI
"A powerful, heartfelt book on harnessing and fostering empathic gifts in today's difficult, fear-based world. Empaths not only sense other people's emotions, but also absorb them - sometimes to their own disadvantage, often leading to overwhelming sensory overload and feelings of confusion or low self-esteem."
"Anita Moorjani argues that it's possible to turn this onslaught of emotional burden into a powerful tool. In a time when traits like sensitivity, kindness and compassion are sorely undervalued, Moorjani helps empaths - whether emerging or acknowledged - navigate obstacles they may face and identify what makes them unique. Finally, she teaches them how to claim their true powers as empaths, to be their most authentic selves, shifting their own trajectory and leading to shift the trajectory of the planet in a more conscientious direction. Filled with eye-opening personal anecdotes, insights from other empaths, meditations and self-affirming mantras, Sensitive Is the New Strong is an empowering book that demonstrates the positive power of sensitivity."