+ Past Life Therapy     + Past Lives     + Reincarnation     + Soul Purpose
Dr. Brian L. Weiss
"As a traditional psychotherapist, Dr. Brian Weiss was astonished and sceptical when one of his patients began recalling past-life traumas that seemed to hold the key to her recurring nightmares and anxiety attacks. His scepticism was eroded, however, when she began to channel messages from 'the space between lives', which contained remarkable revelations about Dr. Weiss's family and his dead son. Using past-life therapy, he was able to cure the patient and embark on a new, more meaningful phase of his own career."
A graduate of Columbia University and Yale Medical School, Brian L. Weiss M.D. is Chairman Emeritus of Psychiatry at the Mount Sinai Medical Center in Miami.
Dr. Weiss is the author of many bestselling books including Many Lives, Many Masters and Through Time into Healing. He also conducts national and international seminars and experiential workshops as well as training programs for professionals.
View answers by Dr. Weiss to questions that people often ask him.
BOOKS BY BRIAN L. WEISS, M.D.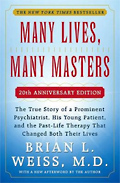 MANY LIVES, MANY MASTERS
by BRIAN L. WEISS, M.D.
"The true story of a prominent psychiatrist, his young patient, and the past-life therapy that changed both their lives."
"Psychiatrist Dr Brian Weiss had been working with a young patient, for eighteen months, who was suffering from recurring nightmares and chronic anxiety attacks. When his traditional methods of therapy failed, Dr Weiss turned to hypnosis and was astonished and sceptical when his patient began recalling past-life traumas which seemed to hold the key to her problems. Dr Weiss's scepticism was eroded when the patient began to channel messages from 'the space between lives', which contained remarkable revelations about his own life. Acting as a channel for information from highly evolved spirit entities called the 'Masters', she revealed many secrets of life and death."
"This fascinating case dramatically altered the lives of the patient and Dr Weiss, and provides important information on the mysteries of the mind, the continuation of life after death and the influence of our past-life experiences on our present behaviour."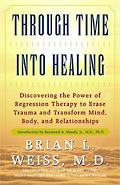 THROUGH TIME INTO HEALING
by BRIAN L. WEISS, M.D.
"Based on his extensive clinical experience, Dr Brian Weiss builds on the time-tested techniques for psychotherapy, revealing how regression to past lifetimes provides the necessary breakthrough to healing mind, body, and soul."
"Using vivid past life case studies, Dr. Weiss shows how regression therapy can heal grief, create more loving relationships, uncover hidden talents, and ultimately shows how near death and out of body experiences help confirm the existence of past lives. Dr. Weiss includes his own techniques for safe past life recall at home."
"Compelling and provocative, Through Time into Healing shows us how to help ourselves lead healthy, productive lives, secure in the knowledge that death is not the final word and that the doorways to healing and wholeness are inside us."
MIRACLES HAPPEN: The Transformational Healing Power of Past Life Memories
by BRIAN L. WEISS, M.D. and AMY E. WEISS
"In their revolutionary book, Miracles Happen, Brian L. Weiss, MD, and his daughter, Amy, examine the physical, emotional, and spiritual healing that is possible when you freely accept and embrace the reality of reincarnation. A leader in the field of past-life therapy, Dr. Weiss has helped thousands connect with their past lives and experience tremendous healing. In Miracles Happen, he and Amy share these remarkable real-life stories to reveal how past-life regression holds the keys to our spiritual purpose."
"The awareness that we have multiple lifetimes, separated by spiritual interludes on the other side, helps to dissolve the fear of death and bring more peace and joy into the present moment."
+ Past Lives     + Reincarnation     + Future Lives     + Precognition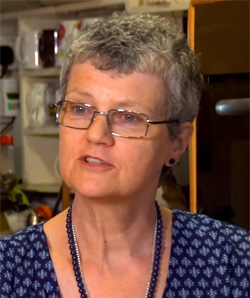 Jenny Cockell in 2017
Jenny Cockell, born in England in 1953, has "always had" memories of previous lives, both while she was dreaming and when awake. Jenny Cockell first realised she was different from other people when, at the age of three, she heard a Sunday school teacher talking about death and was puzzled that, in common with everyone else, he made no mention of past lives. She raised the subject with her mother, who responded considerately, but talked about reincarnation as a belief rather than as an accepted fact.
The most vivid and persistent of these related to a life of a poor working-class woman in Ireland, whose name was Mary and who had borne seven or eight children before dying at an early age, feeling a strong sense of guilt of having abandoned them to an insecure fate. In her first groundbreaking book, the bestselling Yesterday's Children (1993), Jenny described her successful search for the past life family of Mary. Jenny's fourth book Past Lives Eternal follows her research into a short life as a boy in Gateshead between that of Mary and Jenny's current life, but also explores the myriad of questions that reincarnation research evokes.
Jenny Cockell's extraordinary journey isn't limited to memories of past lives, as in her second book Past Lives, Future Lives, Jenny tells the continuing story of the psychic experiences that spurred her to investigate not only other past lives but the future — as far ahead as the twenty-third century. In 1990, Jenny first experienced in a waking state the experience of being a two-year old girl in Nepal in 2040. "I simply knew that Nadia was who I would be in my next life. I also felt, uniquely, that she was aware of me: that I was the self who was being remembered." Jenny further writes, "this didn't feel relived or remembered; it felt alive, as if I were being touched by this future existence."
VIDEO INTERVIEWS WITH JENNY COCKELL
Afterlife TV with Bob Olson - 2013 - Past Life Memories Lead To Reunion With Past Life Children
Thanatos TV - 2017 - Past Life Memories, Yesterday's Children and Reincarnation
BOOKS BY JENNY COCKELL
YESTERDAY'S CHILDREN - The Extraordinary Search for my Past Life Family
by JENNY COCKELL
"This is the extraordinary story of Jenny Cockell, a young woman from Northamptonshire, who has always known that she has lived before. In her previous life her name was Mary. She was an Irishwoman who died 21 years before Jenny was born leaving several very young children without a mother or a stable, happy home. Yesterday's Children describes the trauma and worry of this continual pastlife memory, and Jenny's decision to search for her lost children. The book follows her progress through her dreams and memories, the revelations of hypnotism, her searches through maps, through local groups in Ireland, and her trip to the village where Mary had lived. Finally, she details her painstaking search for the children (now in their sixties and seventies) who had been split up after Mary's death, and the extraordinary reunions that took place."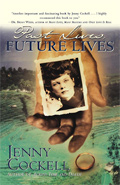 PAST LIVES, FUTURE LIVES - One Woman's Extraordinary Experiences of Other Lifetimes
by JENNY COCKELL
"Past Lives, Future Lives tells the continuing story of Jenny Cockell's psychic experiences that spurred her to investigate not only other past lives but the future — as far ahead as the twenty-third century. Her amazingly detailed glimpses of the future are more than merely personal images; they allow her to formulate an overall view of what the future holds for us all — including a planet much lower in population, but also safer and more pleasant than the world of today. Past Lives, Future Lives presents a fascinating look at the continuity of past, present, and future."
"In her honest, warm, and plain-speaking voice, Jenny Cockell writes of the past and the future in a way that is both practical and visionary; she offers inspiration and hope for the world to come."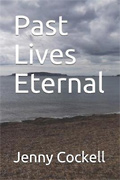 PAST LIVES ETERNAL
by JENNY COCKELL
"Jenny Cockell has always remembered past lives and has spent decades finding documentation and past life relatives to verify the memories. In this, her fourth book, Jenny finds family from a third past life, and looks at the many questions about reincarnation. Where do we go between lives? Does all life reincarnate? If our bodies are made of recycled star dust what about our souls; were they here too from the very beginning? The nature of reality is explored using ideas from many sources, including science and research."