+ Mediumship     + Channeling     + Spiritual Teacher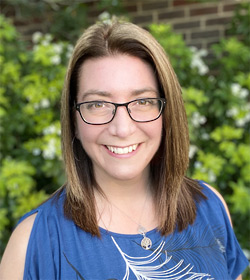 Claire Broad
"Claire Broad gave her first message from the spirit world to a relative at the age of 4 (although, she remembers being aware of spirit before this) and started to develop her ability as a medium at the age of 21.
Claire now has over 20 years professional experience and her passion is to help the public understand that they too can develop a loving connection to the spiritual dimension of life and benefit from knowing they never walk alone."
"Claire is accredited as a registered and approved medium with the Institute of Spiritualist Mediums. Claire values integrity and professionalism above all else and has earned a reputation of being trustworthy because she is honest and not afraid to doubt or question. She views mediumship as a therapeutic practice and hopes that through her work, clients, students and readers of her books, may gain an expanded awareness of life, emotional healing and a better sense of their own eternal nature, in order to live their best lives."
"Claire has read for all types of people from all types of backgrounds and professions, including well-known personalities, scientists, researchers and those from the medical community. She is known for not only giving detailed information about deceased loved ones, but also for the uplifting wisdom she channels from spirit guides and the higher realms of spirit."
"Claire is an accomplished and respected teacher and public speaker, assisting students and fellow truth-seekers alike to expand their own awareness and tune into the higher dimensions of spirit for themselves.
Claire is co-author of Answers From Heaven, Incredible True Stories of Heavenly Encounters and the Afterlife (2017) and author of What The Dead Are Dying To Teach Us (2019) both of which became bestselling titles in their genre. Claire has also been a guest on many popular radio shows, podcasts and YouTube channels across the globe and has featured in the mainstream UK Press and in many magazines."
"Claire now chooses to dedicate her life in service to others as a spiritual practitioner and she remains true and humble to the message of spirit. She understands she is here to serve the greater purpose of raising human awareness, to hold the light, heal hearts and inspire minds."
(information above sourced from Claire Broad's website March 2021 - www.clairevoyant.co.uk)
BOOKS BY CLAIRE BROAD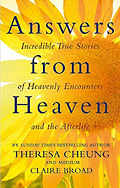 ANSWERS FROM HEAVEN: Incredible True Stories of Heavenly Encounters and the Afterlife
by CLAIRE BROAD
In this compelling book, Sunday Times bestselling author Theresa Cheung and medium Claire Broad share the fascinating true stories of ordinary people who have experienced direct communication from the spirit world, and those who have received proof of survival through a reading with Claire.
Answers from Heaven outlines the many different ways that heaven may answer our prayers, offer us comfort and provide proof of survival. Included are the top ten afterlife signs, what near-death experiences can tell us, the meaning of visions and dreams, the importance of intuition and coincidence, and advice on visiting a medium.
As well as examining the ways in which messages can come to us from the other side, Answers from Heaven outlines the latest scientific research on the afterlife and mediumship, and helps shed light on one of the most important questions about human experience - what happens after we die? It also shares the practical steps we can all take to become more attuned to the medium that lies within us and recognise the signs that heaven is calling.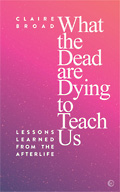 WHAT THE DEAD ARE DYING TO TEACH US: Lessons Learned From the Afterlife
by CLAIRE BROAD
A fresh and thoroughly modern take on Afterlife communication. Claire Broad, known as the Honest Medium, shares invaluable insights into life after death gained through her own experience, whilst also drawing on the most up-to-date scientific studies on consciousness.
In her refreshingly down to earth, honest and open manner, Claire shares personal stories to bring comfort and hope to many whilst highlighting findings from consciousness studies that challenge our understanding of the world and encourage us to consider our true nature and full potential. Claire teaches us why we may have confidence there is life after death, how we can heal and awaken spiritually through the therapeutic practice of mediumship and most importantly, what we can learn from those already on the other side in order to make the most of this life whilst we are here.