+ Spiritual Experiences     + Author     + Podcaster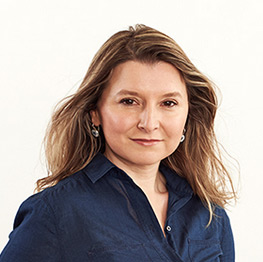 Karina Machado
Karina Machado is a journalist with 25 years' experience, and the author of the non-fiction book series Spirit Sisters, Where Spirits Dwell and Love Never Dies, as well as her most recent book Awaken. Karina's books are also available in audio format through Bolinda Publishing—all narrated by Karina.
Karina was born in Uruguay and was 2 when her family moved to Australia, where she grew up hearing stories of her mum's psychic gift, igniting a life-long curiosity about marvel, mysteries and the unseen world. Always passionate about books and writing, Karina began her career in journalism as editorial assistant at TIME magazine in 1994, and is a former senior editor at Who magazine. Karina lives in Sydney with her husband and two children.
"To celebrate the 10th anniversary of the Spirit Sisters book, in 2019 I launched Spirit Sisters the Podcast, which revisits the women behind my most unforgettable stories, and also unearths fresh tales to intrigue, amaze and yes, offer hope and healing".
"Whatever you believe about the afterlife, I invite you to open your minds – and hearts – as ordinary women reveal their extraordinary encounters."
Listen to Spirit Sisters the Podcast on Karina Machado's website or on your favourite podcast platform.
Do you have a story you'd like to share on Spirit Sisters the Podcast?
Tell Karina Machado about it here.
Karina also created The Ghost Files podcast "bringing you a spine-tingling conversation with an everyday person who's had a brush with something out of this world – from chilling apparitions, to mysterious signs from beyond, visits from late loved ones, and much more, these moments are inexplicable and compelling." "The people opening up about their experiences could be your neighbour, hairdresser or the mum at the school gate… because, after all, everyone's got a story."
Listen to The Ghost Files on Karina's website for all new stories of the unexplained.
Writing aside, in 2018, Karina and her sister, fellow author and podcaster Natalie Grueninger, co-launched the charity Ripples of Love. Please visit the Ripples of Love website and Facebook page to learn more about the Ripples of Love community.
BOOKS BY KARINA MACHADO
SPIRIT SISTERS
by KARINA MACHADO
SPIRIT SISTERS is a collection of women's true stories of the paranormal, illuminating the "extraordinary experiences of ordinary women, whose firsthand accounts of apparitions, near-death experiences, premonitions, hauntings and love more powerful than death are all captured within its pages."
"SPIRIT SISTERS was inspired by the scores of women who would preface their story with 'I've hardly told anyone this, but...'. Scratch the surface and the words would tumble out; they'd give up the ghost, so to speak."
"In SPIRIT SISTERS you'll meet Australian women of all ages who share their very personal encounters with the supernatural. From a high-flying banking executive whose life changed forever after a visit from a bizarre, winged entity, to a mother of seven who was held and soothed by her husband five days after she'd buried him, to the woman who lost most of her family in one car accident, this book is heartbreaking, inspiring, scary and comforting."
"Whether you believe in the afterlife or not, reading this book will lead you to question your reality and wonder... what if?"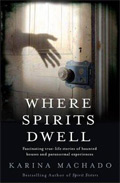 WHERE SPIRITS DWELL
by KARINA MACHADO
"WHERE SPIRITS DWELL unearths the creaking, spine-chilling moments when ghosts appear in suburbia. Alongside infamous Australian haunted homes, like Junee's Monte Cristo Homestead and Annandale's haunted Abbey, Where Spirits Dwell also takes readers inside other haunted dwellings including schools, pubs and even shopping centres."
"As she did in her bestselling book Spirit Sisters, described as 'addictive reading' by the Daily Telegraph and 'fascinating and thought-provoking' by the Sun Herald, Karina Machado spins such a web of wonder that often the interviewees' lives prove just as fascinating as the spooky experiences they're sharing with her."
"Along with these real-life experiences, Karina also investigates the haunted house in history, literature and popular culture in this creepy, intriguing book."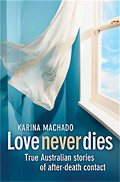 LOVE NEVER DIES - True Australian Stories of After-Death Contact
by KARINA MACHADO
"This is a book about the indestructibility of love."
"Journalist and author Karina Machado spoke to over 60 Australians with stories of post-death contact. She shares their life-shattering experience of loss, and shows how their spiritual contact with a deceased lover, friend or family member brought peace, hope and the solace of knowing that their connection lives on. There is the story of a teenage boy who appears in bodily form on the eve of his funeral to bring comfort to his sister. A young husband returns to his widow in time to prevent another tragedy. A grandmother arrives to lovingly care for the infant children of her grief-stricken daughter. A man soothes his heartbroken brother with an otherworldly embrace."
"Written with grace and compassion, LOVE NEVER DIES is as much about the power of loving relationships as it is the phenomenon of the survival of consciousness beyond death."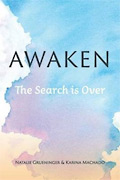 AWAKEN: The Search is Over
by NATALIE GRUENINGER, KARINA MACHADO
"AWAKEN is a book of life-changing inspirational quotes, drawn from the authors' own profound journeys of transformation and spiritual awakening. Dip into any page for instant spiritual nourishment or read from cover to cover. This mini GPS for the soul belongs in every handbag—it's a little book that creates big changes."
"You've been asleep but it's time to Awaken ... Have you ever felt like you're disconnected from life, vitality and joy? Ever sensed the gnawing unease of having forgotten something important, yet the answer remains maddeningly out of reach? Ever yearned to be fulfilled by something you can't begin to understand or express? What you're missing is a connection to your soul, also known as Source, Infinite Spirit, God, the Higher Self, or the Universe—there are many labels for one truth. AWAKEN is a guidebook to help you find your way back to the divine spark within. Do that, and life will expand in new and seemingly magical ways."