+ Spiritual Teacher + Author     + Publisher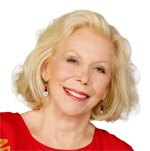 Louise L. Hay ~ 1926-2017
"Meeting Louise changed the direction of my life," said Reid Tracy, President and CEO of Hay House, Inc. "Her passion for serving others translated into everything she did. Simply by working alongside her, an analytical accountant like me transformed into someone who became aware of the power of affirmations and self-love. Being able to learn from her has been one of my life's greatest blessings. The beauty of Louise was that you didn't have to work alongside her to learn from her, you felt like you were there with her, with every word you read or heard."
Louise Hay was known as one of the founders of the self-help movement and was the author of Heal Your Body and the international bestseller You Can Heal Your Life. Louise was a metaphysical lecturer and teacher with more than 50 million books sold worldwide. For more than 30 years, she has helped people throughout the world discover and implement the full potential of their own creative powers for personal growth and self-healing.
Through Louise's healing techniques and positive philosophy, millions have learned how to create more of what they want in their lives, including more wellness in their bodies, minds, and spirits.
"In the infinity of life where I am, all is perfect, whole, and complete." – Louise L. Hay
"Hay House Publishing is a mission-driven company dedicated to supporting positive change in the world by helping all people to grow in mind, body, and spirit. With a diverse roster of customers, authors, and points of view, Hay House offers products and resources that empower, educate, and inspire."
"Hay House produces books (print, electronic, and audio), card decks, calendars, streaming content, mobile apps, and more. From self-improvement to spirituality, health to business, metaphysics to memoir, diet to tarot, children's books to crystals, they offer their audience a wide selection of practical and inspirational resources in a broad range of formats."
"Hay House also offer online courses through Hay House Online Learning; live events around the world with their roster of visionary thought leaders; and intimate listening experiences with their top teachers through Hay House Podcasts and our Hay House Unlimited Audio App."
"Their self-publishing division, Balboa Press, empowers independent authors to bring their own messages to the world."
"In a further testament to Louise's enduring legacy, The Hay Foundation, a nonprofit charitable foundation established in 1986, carries on her mission of supporting organizations that enhance the quality of life for all beings who share our world - and for the planet itself."
BOOKS BY LOUISE L. HAY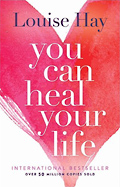 YOU CAN HEAL YOUR LIFE
by LOUISE L. HAY
"This New York Times Bestseller has sold over 30 million copies worldwide. Louise's key message in this powerful work is: 'If we are willing to do the mental work, almost anything can be healed.' Louise explains how limiting beliefs and ideas are often the cause of illness, and how you can change your thinking…and improve the quality of your life! Packed with powerful information."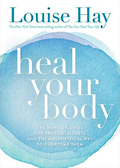 HEAL YOUR BODY - The Mental Causes for Physical Illness and the Metaphysical Way to Overcome Them
by LOUISE L. HAY
"This handy 'little blue book' offers positive new thought patterns to replace negative emotions. It includes an alphabetical chart of physical ailments, the probable causes, and healing affirmations to help you eliminate old patterns."
You'll find further information about Louise, her teachings and publications on the following websites:
Louise Hay - www.louisehay.com
You Can Heal Your Life - www.healyourlife.com
Hay House Unlimited - www.discover.hayhouse.com/unlimitedaudioapp
Hay Foundation - www.hayfoundation.org
Hay House Publishing - www.hayhouse.com