+ Self-development + Spiritual Teacher
Dr Wayne W. Dyer ~ 1940-2015
Wayne W. Dyer was an internationally renowned author and speaker in the fields of self-development and spiritual growth. Over the four decades of his career, he wrote more than 40 books, including 21 New York Times bestsellers. He created many audio and video programs, and appeared on thousands of television and radio shows.
"Through his early work in college-level teaching and clinical psychology, Wayne W. Dyer discovered a widespread need for the principles of self-discovery and personal growth, and sought to bring these ideas to a wider audience. His first book for general readers, 'Your Erroneous Zones', published in 1976, became an international bestseller and launched his career as an author and speaker."
"After publishing a string of best-selling books on the practical psychology of self-improvement, Dyer felt a shift occur in his thinking that led him to explore the spiritual aspects of human experience. 'My purpose is to help people look at themselves and begin to shift their concepts,' he said. 'Remember, we are not our country, our race, or religion. We are eternal spirits. Seeing ourselves as spiritual beings without label is a way to transform the world and reach a sacred place for all of humanity.'"
"Dyer was affectionately called the 'father of motivation' by his fans. His main message was that every person has the potential to live an extraordinary life. What's more, it's possible for every person to manifest their deepest desires—if they honour their inner divinity and consciously choose to live from their 'Highest Self.'"
BOOKS BY DR. WAYNE W. DYER
EXCUSES BEGONE! - How to Change Lifelong, Self-Defeating Thinking Habits
by DR. WAYNE W. DYER
"Within the pages of this transformational book, Dr. Wayne W. Dyer reveals how to change the self-defeating thinking patterns that have prevented you from living at the highest levels of success, happiness, and health. Even though you may know what to think, actually changing those thinking habits that have been with you since childhood might be somewhat challenging."
"You'll ultimately realize that there are no excuses worth defending, ever, even if they've always been part of your life—and the joy of releasing them will resonate throughout your very being. When you eliminate the need to explain your shortcomings or failures, you'll awaken to the life of your dreams."
Excuses . . . Begone!
YOUR ERRONEOUS ZONES - Escape negative thinking and take control of your life
by DR. WAYNE W. DYER
"Do you ever worry what people think of you? Do you ever feel inadequate? Do you ever say 'yes' when you mean 'no'? Are you frightened of failure? These are your erroneous zones - infuriating little quirks of personality that are barriers to a fuller, richer life. Just about everyone has erroneous zones - but now, with the help of this book, you can learn how to overcome and eliminate them for good. Written by a top psychiatrist, YOUR ERRONEOUS ZONES is a must for everyone who has ever been dissatisfied with themselves and their lives. After all, nobody's perfect - but you can go a long way by trying!"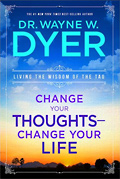 CHANGE YOUR THOUGHTS - CHANGE YOUR LIFE - Living the Wisdom of the Tao
by DR. WAYNE W. DYER
"Five hundred years before the birth of Jesus, a God-realized being named Lao-tzu in ancient China dictated 81 verses, which are regarded by many as the ultimate commentary on the nature of our existence. The classic text of these 81 verses, called the Tao Te Ching or the Great Way, offers advice and guidance that is balanced, moral, spiritual, and always concerned with working for the good."
"Wayne spent one entire year reading, researching, and meditating on Lao-tzu's messages, practicing them each day and ultimately writing down these essays as he felt Lao-tzu wanted you to know them."
"This is a work to be read slowly, one essay a day. As Wayne said, 'This is a book that will forever change the way you look at your life, and the result will be that you'll live in a new world aligned with nature.'"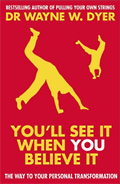 YOU'LL SEE IT WHEN YOU BELIEVE IT - The Way To Your Personal Transformation
by DR. WAYNE W. DYER
"Dr. Wayne W. Dyer, psychotherapist and world-famous author of worldwide bestsellers, shows you how to improve quality of life by tapping into the power that lies within you and using constructive thinking to direct the course of your own destiny."
"With his proven techniques and using examples from his own highly successful experiences, Dyer will convince you that you can make your most impossible dreams come true. You'll See It When You Believe It demonstrates that through belief you can make your life anything you wish it to be. Learn practical steps such as how to set real goals and achieve them; turn obstacles into opportunities; rid yourself of guilt and inner turmoil; develop a strong inner-confidence; dramatically improve relationships; spend every day doing the things you love to do, and so much more. Go beyond self-help to self-realization with this accessible and uplifting manual."