+ Past Life Therapy     + Past Lives     + Reincarnation     + Soul Purpose
Dr. Brian L. Weiss
"As a traditional psychotherapist, Dr. Brian Weiss was astonished and sceptical when one of his patients began recalling past-life traumas that seemed to hold the key to her recurring nightmares and anxiety attacks. His scepticism was eroded, however, when she began to channel messages from 'the space between lives', which contained remarkable revelations about Dr. Weiss's family and his dead son. Using past-life therapy, he was able to cure the patient and embark on a new, more meaningful phase of his own career."
A graduate of Columbia University and Yale Medical School, Brian L. Weiss M.D. is Chairman Emeritus of Psychiatry at the Mount Sinai Medical Center in Miami.
Dr. Weiss is the author of many bestselling books including Many Lives, Many Masters and Through Time into Healing. He also conducts national and international seminars and experiential workshops as well as training programs for professionals.
View answers by Dr. Weiss to questions that people often ask him.
BOOKS BY BRIAN L. WEISS, M.D.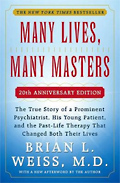 MANY LIVES, MANY MASTERS
by BRIAN L. WEISS, M.D.
"The true story of a prominent psychiatrist, his young patient, and the past-life therapy that changed both their lives."
"Psychiatrist Dr Brian Weiss had been working with a young patient, for eighteen months, who was suffering from recurring nightmares and chronic anxiety attacks. When his traditional methods of therapy failed, Dr Weiss turned to hypnosis and was astonished and sceptical when his patient began recalling past-life traumas which seemed to hold the key to her problems. Dr Weiss's scepticism was eroded when the patient began to channel messages from 'the space between lives', which contained remarkable revelations about his own life. Acting as a channel for information from highly evolved spirit entities called the 'Masters', she revealed many secrets of life and death."
"This fascinating case dramatically altered the lives of the patient and Dr Weiss, and provides important information on the mysteries of the mind, the continuation of life after death and the influence of our past-life experiences on our present behaviour."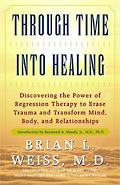 THROUGH TIME INTO HEALING
by BRIAN L. WEISS, M.D.
"Based on his extensive clinical experience, Dr Brian Weiss builds on the time-tested techniques for psychotherapy, revealing how regression to past lifetimes provides the necessary breakthrough to healing mind, body, and soul."
"Using vivid past life case studies, Dr. Weiss shows how regression therapy can heal grief, create more loving relationships, uncover hidden talents, and ultimately shows how near death and out of body experiences help confirm the existence of past lives. Dr. Weiss includes his own techniques for safe past life recall at home."
"Compelling and provocative, Through Time into Healing shows us how to help ourselves lead healthy, productive lives, secure in the knowledge that death is not the final word and that the doorways to healing and wholeness are inside us."
MIRACLES HAPPEN: The Transformational Healing Power of Past Life Memories
by BRIAN L. WEISS, M.D. and AMY E. WEISS
"In their revolutionary book, Miracles Happen, Brian L. Weiss, MD, and his daughter, Amy, examine the physical, emotional, and spiritual healing that is possible when you freely accept and embrace the reality of reincarnation. A leader in the field of past-life therapy, Dr. Weiss has helped thousands connect with their past lives and experience tremendous healing. In Miracles Happen, he and Amy share these remarkable real-life stories to reveal how past-life regression holds the keys to our spiritual purpose."
"The awareness that we have multiple lifetimes, separated by spiritual interludes on the other side, helps to dissolve the fear of death and bring more peace and joy into the present moment."