+ Past Lives     + Reincarnation     + Future Lives     + Precognition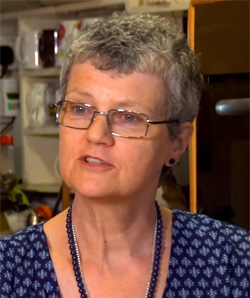 Jenny Cockell in 2017
Jenny Cockell, born in England in 1953, has "always had" memories of previous lives, both while she was dreaming and when awake. Jenny Cockell first realised she was different from other people when, at the age of three, she heard a Sunday school teacher talking about death and was puzzled that, in common with everyone else, he made no mention of past lives. She raised the subject with her mother, who responded considerately, but talked about reincarnation as a belief rather than as an accepted fact.
The most vivid and persistent of these related to a life of a poor working-class woman in Ireland, whose name was Mary and who had borne seven or eight children before dying at an early age, feeling a strong sense of guilt of having abandoned them to an insecure fate. In her first groundbreaking book, the bestselling Yesterday's Children (1993), Jenny described her successful search for the past life family of Mary. Jenny's fourth book Past Lives Eternal follows her research into a short life as a boy in Gateshead between that of Mary and Jenny's current life, but also explores the myriad of questions that reincarnation research evokes.
Jenny Cockell's extraordinary journey isn't limited to memories of past lives, as in her second book Past Lives, Future Lives, Jenny tells the continuing story of the psychic experiences that spurred her to investigate not only other past lives but the future — as far ahead as the twenty-third century. In 1990, Jenny first experienced in a waking state the experience of being a two-year old girl in Nepal in 2040. "I simply knew that Nadia was who I would be in my next life. I also felt, uniquely, that she was aware of me: that I was the self who was being remembered." Jenny further writes, "this didn't feel relived or remembered; it felt alive, as if I were being touched by this future existence."
VIDEO INTERVIEWS WITH JENNY COCKELL
Afterlife TV with Bob Olson - 2013 - Past Life Memories Lead To Reunion With Past Life Children
Thanatos TV - 2017 - Past Life Memories, Yesterday's Children and Reincarnation
BOOKS BY JENNY COCKELL
YESTERDAY'S CHILDREN - The Extraordinary Search for my Past Life Family
by JENNY COCKELL
"This is the extraordinary story of Jenny Cockell, a young woman from Northamptonshire, who has always known that she has lived before. In her previous life her name was Mary. She was an Irishwoman who died 21 years before Jenny was born leaving several very young children without a mother or a stable, happy home. Yesterday's Children describes the trauma and worry of this continual pastlife memory, and Jenny's decision to search for her lost children. The book follows her progress through her dreams and memories, the revelations of hypnotism, her searches through maps, through local groups in Ireland, and her trip to the village where Mary had lived. Finally, she details her painstaking search for the children (now in their sixties and seventies) who had been split up after Mary's death, and the extraordinary reunions that took place."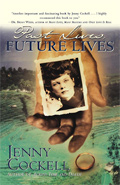 PAST LIVES, FUTURE LIVES - One Woman's Extraordinary Experiences of Other Lifetimes
by JENNY COCKELL
"Past Lives, Future Lives tells the continuing story of Jenny Cockell's psychic experiences that spurred her to investigate not only other past lives but the future — as far ahead as the twenty-third century. Her amazingly detailed glimpses of the future are more than merely personal images; they allow her to formulate an overall view of what the future holds for us all — including a planet much lower in population, but also safer and more pleasant than the world of today. Past Lives, Future Lives presents a fascinating look at the continuity of past, present, and future."
"In her honest, warm, and plain-speaking voice, Jenny Cockell writes of the past and the future in a way that is both practical and visionary; she offers inspiration and hope for the world to come."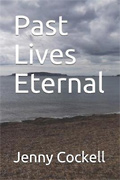 PAST LIVES ETERNAL
by JENNY COCKELL
"Jenny Cockell has always remembered past lives and has spent decades finding documentation and past life relatives to verify the memories. In this, her fourth book, Jenny finds family from a third past life, and looks at the many questions about reincarnation. Where do we go between lives? Does all life reincarnate? If our bodies are made of recycled star dust what about our souls; were they here too from the very beginning? The nature of reality is explored using ideas from many sources, including science and research."